WELCOME TO OUR KITCHEN
Every day fresh products arrive from our territory. We prepare the recipes respecting the seasonality of the raw ingredients. Cakes are homemade every day.
VENETIAN APPETISERS
At the hostaria Vite Rossa you can find a wide range of "cicchetti" appetisers. From fried appetisers to meatballs and mozzarella "in carrozza" (fried bread) for all tastes, to baked goods.
OUR FIRST COURSES
Quality raw ingredients, simplicity and tradition, fresh bronze-drawn pasta, wholemeal and gluten-free version, potato gnocchi, lasagna prepared with fresh Italian eggs and our winter soups, warm and comforting ... Water, salt and enjoy your meal!
TO CONTINUE
If you want fresh fish you can satisfy your taste buds here, without any doubt. It comes straight from the market every morning, served raw or cooked with simplicity but in an excellent way. Even the meat often at zero km definitely should be tried, and then, fresh vegetables from the market, polenta and sauces for all tastes.
OUR DESSERTS
If you happen to visit the hostaria, you will receive a sweet welcome every morning and you will be inebriated by the scent of our homemade desserts prepared with care by our pastry chef, biscuits, creams, cakes and pies ... we can already smell the scent ...
HOSTARIA SINCE 1997
The tavern was founded in 1997, with the young siblings Luca, Fabrizio and Patrizia overlooked by the expert gaze of mom Evelina and dad Giuseppe, already experts in the restaurant industry.
STANDING APERITIF
Whether it be summer or winter, while waiting for sunset, it takes a moment for an aperitif to transform an afternoon into a special evening, between a fried appetiser, finger food or raw fish the hours slip away accompanied by spritzes, bubbles, blends, craft beers and important reds. All obviously in good company.
Jugs: 1lt 15€
Fried appetisers: 2€
Finger Food: 2,50€
Croutons: 3€
Mixed platter: 15€
GRADUATION AND BIRTHDAY LUNCH AND DINNERS
We organise graduation and birthday lunch and dinners, sitting and always careful of satisfying your requests.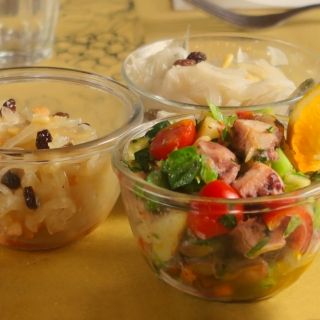 TAKE AWAY
GRAB IT AND TAKE IT HOME
Absolutely everything we prepare can be delivered to enjoy it wherever you want! Call us and pick it up in person.
DO YOU WANT TO EAT AT THE HOSTARIA?
+39 041 531 4421 
HOW TO REACH US?
The Hostaria is easily accessible from both the station and hostels, just a 1-minute walk from the bus stop to and from Venice. The bike path is right in front of the restaurant, reach us by bike!
From the train station: 10 minutes walk
From the bus stop: 1 minute walk

From the hostels: 8 minutes walk
From Venice Piazzale Roma: 15 minutes by bus
All our staff is careful to respect the anti-covid measures