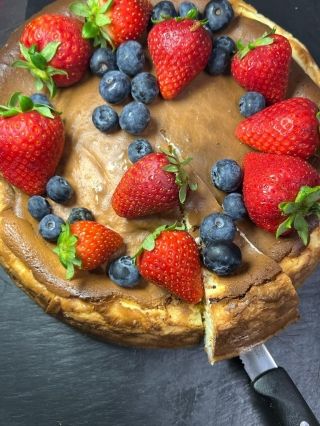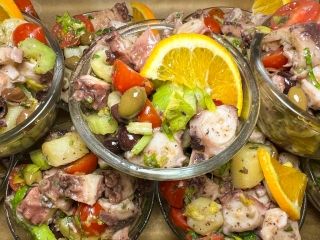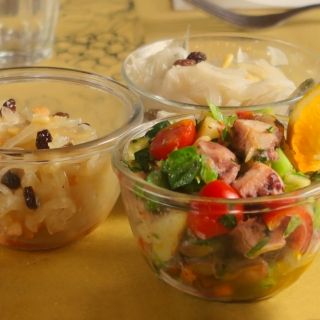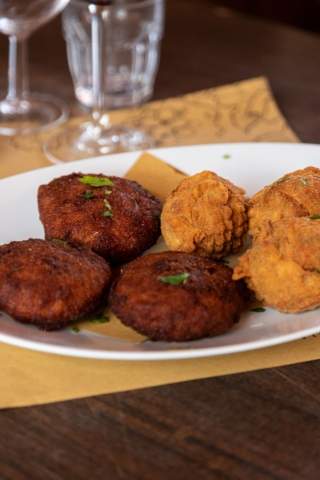 APPETISERS
+
At the hostaria Vite Rossa you will find a wide range of cicchetti (appetisers). From fried meatballs and mozzarella "in carrozza" (in fried bread) for all tastes, fish appetisers from raw to boiled, and baked. Our meat, vegetable and cheese chicchetti, which follow the seasons, always using fresh ingredients. We also offer a vegetarian, vegan and glutee free choice so everyone can enjoy an unforgettable experience.
Oyster, large prawns , blue shrimps
Fried bread and mozzarella with: anchoves,ham,bluecheese or codfish
Big crab baked in owen with olive oil and rosmarine
Slice of boiled salami on grilled corn cream
Sautéed mussels with tomato
Polenta and musetto (pork sausage)
Prawns in "saor" (vinaigrette)
Sardines in "saor" (vinaigrette)
Crostini with cod and marinated salmon or snapper
Polenta and sopressa (cured sausage)
Fried tuna patties or meat balls
Fortaia (omelette) with mushrum and bluee cheese
Tasting of meat, vegetable and cheese "cicchetti" (appetisers)
Mozzarella in carrozza (in fried bread)
Oysters, sea urchins, truffles
Burratina (creamy mozzarella) on mixed salad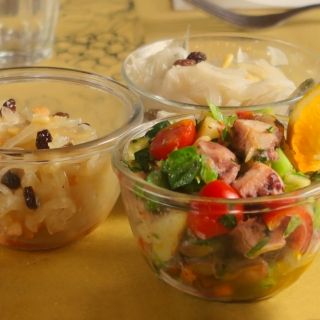 TODAY'S FIRST COURSES
+
Quality raw ingredients, simplicity and tradition, fresh pasta, bronze-drawn, wholemeal and gluten free version, potato gnocchi, lasagna prepared with fresh Italian eggs and our warm and comforting winter soups ... Water, salt and enjoy your meal!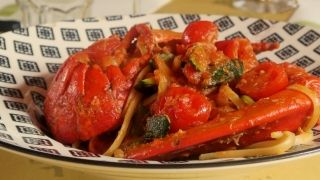 Warm soup rich of fish of the day
Bigoli (fat spaghetti) mix fresh fish sauce, little spicy,tomato
Lasagna seasonal red cicory,blue cheese, pistacchio(veggy)
Agnolotti ( big ravioli) pumpkin cream,sausage ,fresh mozzarella
Gnocchi (potato dumping) ragout bolognese, mushroom,salted cheese
Spaghetti with Clams and Bottarga
Linguine pasta, half a lobster, crab and zucchini
SECONDS
+
If you want fresh fish you can satisfy your taste buds here, without any doubt. It comes straight from the market every morning, served raw or cooked with simplicity but in an excellent way. Even the meat often at zero km should definitely be tried, and then, fresh vegetables from the market, polenta and sauces for all tastes.
Veal braised and sliced in tomato sauce with chips and mushrooms
Squids and red seasonal cicory in small pieces,cooked and served in tomato sauce
Big crab baked in owen with olive oil and rosmarine
Slice of seared tuna in seed crust
Fried squid, shrimp, cod and chips
Grilled cuttlefish, squid, scampi, shrimp, octopus
Raw fish (scampi, shrimp, oysters, tuna, ect)
Grilled Costata steak of "Sorana beef"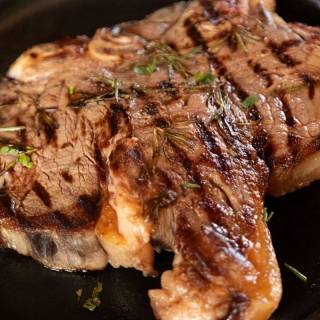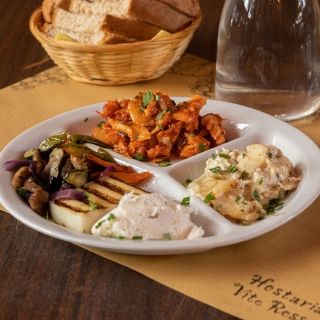 OUR DESSERTS
+
If you happen to visit the hostaria, you will receive a sweet welcome every morning and you will be inebriated by the scent of our homemade desserts prepared with care by our pastry chef, biscuits, creams, cakes and pies ... we can already smell the scent ...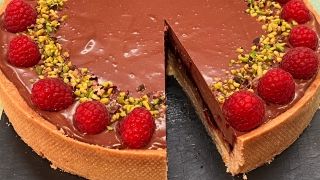 pinenuts and apple cream warm pie
Vanilla and biscuits ice cream with eggnog liquor
Christmas soft pie with chantilly cream
Cheesecake with red berry sauce
Our lemon and vodka sorbet
brownie chocolate and nuts with chantilly cream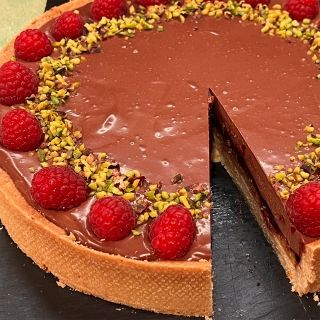 WINE LIST
+
Brief history of the "ombra" (or Shade) because in the past the merchants of Venice used to arrange the beverage counter in the shade of the bell tower of San Marco, to keep the wine cool. The "cicchetto" (appetisers) and the shade are part of the history of the Venetian people. Merchants and travellers who come to Venice love to spend time in company tasting local specialties and sipping a glass of good wine.
Phigaia Serafini e Vidotto
Ferghettina Brut Franciacorta
Prosecco Brut o Extra Dry
Metodo Classico Filo di Seta
Schioppettina Bianca (Muller + Chardonnay)
Pinot Grigio senza solfiti (vegan-bio)
Merlot senza solfiti (vegan bio)
Valpolicella Ripasso Superiore
Fresh products from out territory arrive every day. We prepare our recipes respecting the seasonality of the raw ingredients. The cakes are homemade every day.
We study personalized dishes for vegetarians and vegans or with food intolerances.